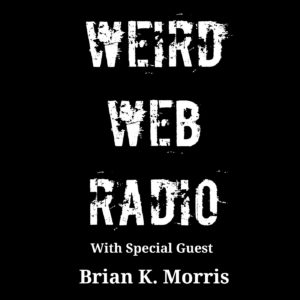 Welcome to Weird Web Radio! Episode 4!
This episode features Brian K. Morris.
Brian is a full-time freelance writer, independent publisher, and consultant.  His best-selling novel is SANTASTEIN: The Post-Holiday Prometheus, a parody of the classic Mary Shelley novel.  He is also the Editor-in-Chief at Silver Phoenix Entertainment, the Midwest's leading publisher in the fields of horror, public service, and Roller Derby.  His most current projects for Silver Phoenix include a history of the Police in America and THE HAUNTING TALES OF BACHELOR'S GROVE, a horror anthology loosely based on the most haunted cemetery in America which recently launched a Kickstarter campaign for funding.
Show Notes:
Subscribe on iTunes (Please Rate / Comment)
Find Brian on Social Media:
Facebook: https://www.facebook.com/briankmorris1956
Twitter: www.twitter.com/BrianKMorris
Brian's Book's, Projects, and the Haunted Tales of Bachelor's Grove Kickstarter:
Freelance Words – Artisinal Publisher: https://www.facebook.com/FreelanceWords/
The Vulcana Novel Series: https://www.facebook.com/vulcanabookseries/
Rising Tide Publications: https://www.facebook.com/RisingTidePublishing/
Brian's Amazon Sales page: www.amazon.com/author/briankmorris
Music: The intro music was '7' from the album 'Ghosts' by Nine Inch Nails under a Creative Commons License.
Voice Over: Intro production and voice over by Lothar Tuppan.